Anti-Homeless Architecture — Anti-Homeless Fence at the Post Office in Santa Cruz
A safe dry shelter for over a dozen of our homeless friends is now being fenced off and one of our city's most historic and beautiful buildings is being defaced.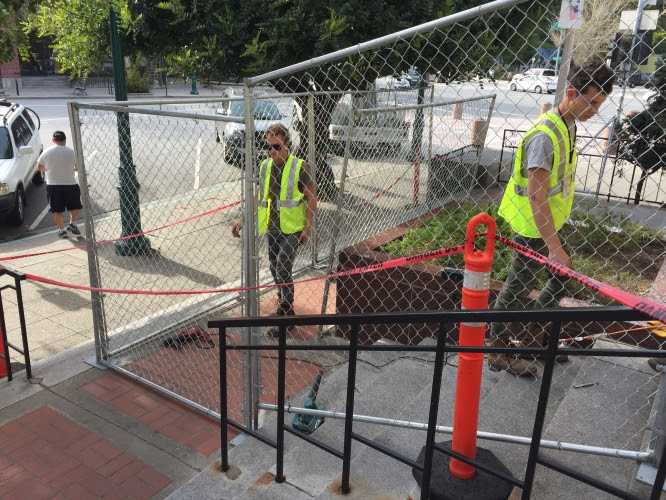 ANTI-HOMELESS ARCHITECTURE – Anti-homeless fence at the post office in Santa Cruz. Historic building being defaced. A safe dry shelter for over a dozen of our homeless friends is now being fenced off and one of our city's most historic and beautiful buildings is being defaced. Bathrooms, housing and services could have been provided but officials find spending tax dollars on anti-homeless redevelopment is a better use of money.Santa Cruz is big on the use of anti-homeless architecture installing high frequency sound machine's call Mosquito Boxes in parks and along the San Lorenzo River to drive the homeless away from under the bridges, removing the planter boxes and free speech zones on the Pacific Avenue Mall, and replacing the lawn at City Hall with gravel and rocks and now the ugly chain link fencing at the historic downtown post office.
Along with anti-homeless architecture comes the sleeping ban which makes it illegal to sleep outside at night and illegal to sleep under a blanket. A law that can contribute to the death of our friends like 53 year-old Micheal Mear who died of hypothermia on February 17, 2017. Medical staff told his sister his body temperature was only 70 degrees when a motorist found him unconscious on Potrero Street. He died soon after from cardiac arrest at Dominican Hospital.
I was heart broken when we ran out of blankets during the Tuesday, March 7th Freedom Sleepers sleep-out, turning away several desperate people. Michael's sister Jerry cried as she asked me why he didn't even have a warm blanket to save his life. I didn't have the heart to tell her it was illegal to sleep protected from the cold.
They will never be able to drive poverty out of sight unless they make housing affordable. Instead it looks like the liberals are making their move using the chaos of Trump to camouflage their anti-homeless cruelty.
The community is so anti-homeless it is even willing to deface its own beautiful historic post office with an ugly chain link fence. J.M. Brown's article in the Santa Cruz Sentinel "The 1912 Renaissance Revival building — the oldest continually operating California post office on the National Register of Historic Places — was modeled after the 15th century Filippo Brunelleschi's Foundling Hospital in Florence, Italy. It is home to four priceless murals by the American artist Henrietta Shore."
"Inspired by classical Renaissance style, the design asserts the building's importance to civic life and confidence in the community's future — a message repeated in countless schools, banks, libraries and other civic structures from the same period," said former mayor and history buff Cynthia Mathews. "With its dignified, graceful detail, quality materials and prominent location, the Santa Cruz Post Office was intended to reflect the community's importance, identity and aspirations, and it remains a defining feature of our downtown today."
…the latest front in the spread of 'defensive architecture'.
Is such open hostility towards the destitute making all our lives uglier?
https://www.theguardian.com/society/2015/feb/18/defensive-architecture-keeps-poverty-undeen-and-makes-us-more-hostile
---
Comments  (below)

Comments 

§1984-style Developments Are a Cancerous Growth in Santa Cruz
Thursday Mar 9th, 2017 10:15 PM