NOTES BY NORSE:  Since the negligent homicide of Krista Daluca ("Four Days…the Slaying of Krista Deluca in the Santa Cruz County Jail" at https://www.indybay.org/newsitems/2016/06/30/18788382.php), there's been little sustained focus on our own section of the incarceration system.  In spite of a history of medical negligence and abuse ("Santa Cruz Residents Call for Sheriff to Accept Responsibility for 'Unnatural' Jail Deaths" at https://www.indybay.org/newsitems/2015/02/08/18768236.php), the only clear  reaction of the Sheriff Hart's regime has been to fence off protesters ("Sheriff Hart Requests $47,925 to Fence Out Protesters from Santa Cruz County Jail" at https://www.indybay.org/newsitems/2015/04/17/18771212.php).  Until forced by state law, Sheriff Hart continued to collude with ICE abusers ("Santa Cruz County Sheriff Jim Hart, Contrary to Assurances, Collaborates with ICE" at https://www.indybay.org/newsitems/2017/05/19/18799565.php). 

                            While Hart has reportedly been forthcoming in dealing with the marijuana growers lobby by slowing or stopping raids (or at least releasing public records), no one has yet done an analysis of class, race, and "drug crime" of the jail population.  Myself included.  I include more critical commentary below.

                            What prompted the recent rebellion?  From the mouths of those who rebelled, not those who struck them down, please!

Cold Temperatures Prompt Inmate Rebellion in Santa Cruz Jail
Inmates locked in the Santa Cruz jail armed themselves, and created booby traps and barricades in their cells, as they staged a masked rebellion this week over cold temperatures within the facility, according to authorities.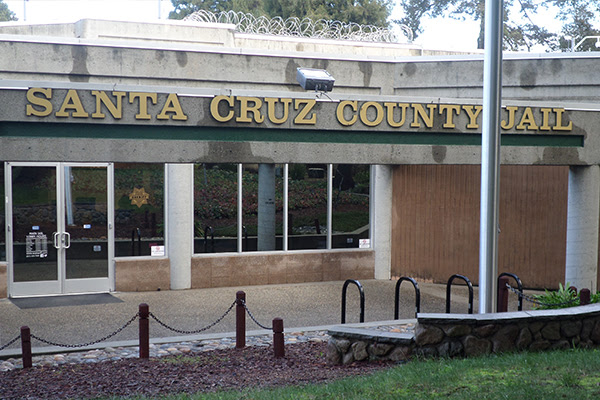 26 men in the west-wing L Unit of the jail complained about the cold temperatures, and
on Tuesday
afternoon they, "tied trip lines from ripped jail-cell sheets, covered their arms with socks, hid their faces with makeshift masks," and, "armed themselves with soap, a radio, mop, books and bottles of liquid," according to the Santa Cruz Sentinel. They also created "trip lines," and "covered the unit floor with soap and water and blocked stairwells and walkways with mattresses as they tried to pelt the guards with books and soap," according to a jail official..
The rebellion left over $1,000 in property damage in its wake.
A press release issued by the Santa Cruz County Sheriff's Office on January 16 titled "Jail Disturbance Resolved" read:
"Over the last several days, male inmates residing in a housing unit at the Main Jail became increasingly concerned about the unit's ambient air temperature. Maintenance has been actively working to increase the temperature above 70 degrees and Jail staff provided extra blankets in the interim. Over the last 24 hours, the inmates became increasingly non-compliant to the point that they refused Correctional staff directives, used mattresses as makeshift barricades and prepared tools for offensive and defensive use. Despite hours of Correctional staff attempting to resolve and deescalate the disturbance, the inmates ultimately refused to follow lawful directives.
"Shortly before 2 pm this afternoon, Sheriff's Office staff entered the housing unit to restore safety and order. None of the inmates or Sheriff's Office staff suffered any serious injuries."
Read more:
Masked inmates use booby traps in Santa Cruz County Jail skirmish
http://www.santacruzsentinel..com/article/NE/20180117/NEWS/180119719
Masked Inmates Booby Trapped Entire Cell Block At Santa Cruz Jail
http://sanfrancisco.cbslocal.com/2018/01/18/masked-inmates-booby-trapped-santa-cruz-jail-cell-block/
Download PDF

(258.3kb)
Saturday Jan 20th, 2018 11:08 PM
Anyone have any real reports from folks inside the jail?
Sunday Jan 21st, 2018 8:59 AM

The Sunday Sentinel has this "report":
"Masked inmates use booby traps in Santa Cruz County Jail skirmish"
Cops and Courts: Photos show unit littered and soaked after jail uprising. Sheriff's office is reviewing statements and surveillance in active investigation. Sentinel Staff Report
Investigators are reviewing surveillance video and statements before recommending charges ina wave of destruction by about 26 Santa Cruz County Jail inmates in Unit L this week, a Santa Cruz County Sheriff's Office spokesman said.
Photos of the property damage show the aftermath: the soaked red flower strewn with gray sleeping [sic], tattered sheets, and garbage.
Inmates complaining they were cold launched an offensive against jail staff on Tuesday afternoon, setting trip lines with ripped sheets, covering their bodies withmats, and extra clothing and their faces with masks, and throwing books and bottles of unknown liquids at officers–breaking a high-strength window int he process, Sgt. Brian Cleveland said.
The men were complaining it was cold int he unit and blankets were offered but declined, Cleveland said. Of the group, 24 of the men have returned to the west-wing cvells of L Unit. Two men are believed to have been the organizers, Cleveland said. The unit is a two-story pod with a common, or open, area with doors to cells along the periphery.
It took more than three hours for jail staff to clean the unit, Cleveland said. something had been thrown on the ceiling to cover up surveillance cameras, he said.
The cell block is visible from a core viewing area staffed by guards. Mirrored tint on the windows makes it difficult for the inmates to see the guards. The inmates covered the window with sheets.
More than $1000 in property was destroyed.
Felonies likely will be recommended including assault with a deadly weapon, vandalism, and conspiracy, Cleveland said. No one has been arrested in connection with the disturbance.
Non-lethal sting balls, which eject rubber pellets, and bean-gag rounds were used to quell the resistance in less than 20 minutes."
MY COMMENTS:
The anonymous reporter ("Sentinel staff report") apparently didn't bother or try to interview any inmates or relatives of the inmates, so we get no understanding of what other than "the cold" prompted the rebellion. Even Cleveland's description makes the rebellion appear to be a defensive reaction to objectionable conditions.
Sheriff and Sentinel whitewashing is understandable and standard. What's worse (though also understandable) is all the psuedo-protest activity happening outside with MLK Day, Women's March, Trump-trounching, but no outcry against abuses in our own local jail.
Bold activists call for an end to solitary confinement statewide, but have no voice when it comes to local action where they might hold authorities directly accountable (and face more direct threat themselves).
Cries for justice and equal treatment for women ignore conditions in the local jail, but rage about Trump's language and racist militarist policies he's inherited from Obama, which Clinton would likely have continued and intensified. One-day marches carrying banners while abusive policies continue unchallenged locally are as delusional and a diversion. The real substance of the "protest marches" seems to be caught by videos of hundreds of people taking selfies of each other.
Nor have we any stats on any injuries prompted by the "non-lethal" weapons.
I post the Sentinel story, because it's no longer available unless you have a paid subscription.
If anyone has more information, as I requested before, please post it here. Or if anyone has the energy to file a Public Records Act demanding more specifics, that would be good as well.
Timidity in the face of institutional terror is understandable but unavailing.