by Robert Norse Tue, Jan 17, 2023 11:26AM Charges of cruel, discriminatory, and unnecessary evictions of unhoused folks into survival-threatening weather at Felton's Mountain Community Resource Center have prompted this protest. Two fliers describe the situation and ask the community to respond.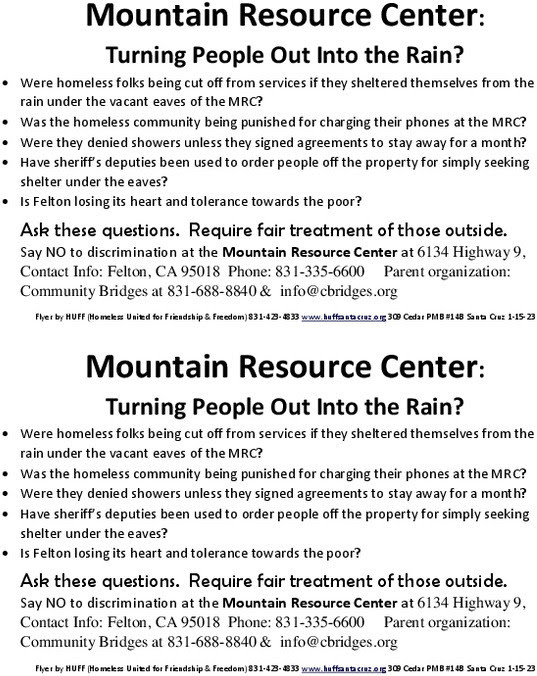 Download PDF (431.3KB) Torrential rains and cold temperatures have made this a particularly hard weather for those surviving outside as the San Lorenzo River rises.

HUFF (Homeless United for Friendship & Freedom) has received repeated reports of discriminatory behavior by the management of the Mountain Community Resource Center in Felton. They include denying promised (once-a-week) shower facilities, turning those sheltered under an outdoor awning into the rain, calling sheriffs to harass otherwise peaceful homeless people, and similar actions treating the poor outside like criminals.

We will be responding to these complaints on Thursday morning to urge a change in these practices and to determine the extent of the abuses there.


Say NO to discrimination at the Mountain Resource Center at 6134 Highway 9, Contact Info: Felton, CA 95018 Phone: 831-335-6600 Parent organization: Community Bridges at 831-688-8840 & info [at] cbridges.org For more information: http://www.huffsantacruz.org§Informational Flyer by Robert Norse Tue, Jan 17, 2023 11:26AM
Download PDF (603.7KB) Please download and distribute http://www.huffsantacruz.org
TO DOWNLOAD FLYERS GO TO https://www.indybay.org/newsitems/2023/01/17/18853848.php .